Digital Performer 8 Will Work on Windows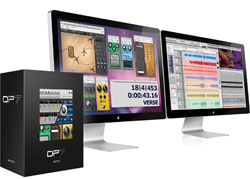 Mark of the Unicorn (MOTU) Digital Performer, one of the top audio recording workstation software programs in the industry, has traditionally only been available for the Mac.  But the next incarnation, Digital Performer 8, will be available for Windows also, both 32 and 64-bit versions.  This is fabulous news for PC owners who have wanted to get in on the MOTU magic.
DP 8 was announced at the NAMM trade show (the National Association of Music Merchants) in Januar, 2012.  The release date was said to be "Spring."  Well the blue bonnets are in full bloom here in Texas and as of today (March 21st), it is not available to the general public yet.  Sigh.  Well, it's available now! Click Here to find out more or buy your own copy!
Features
There are tons of new features in DP8, including a new thing called Punch Guard, which records 4 seconds of audio both before and after you hit the record button.  This is designed to make you punch-ins fit in without cutting off any of the audio either of the already-recorded stuff, or of the thing you're punching in.
In addition, there are 15 new plug-ins including guitar amp models, pedals, multi-band EQ, a kick-drum enhancer, and lots more.  And of course, it still has the awesome editing, notation, and music-for-film tools that have set DP apart from other DAWs.
Keep your channel tuned to this space for updates on when Digital Performer 8 will be available.  DP8 is here now, and for $499 it can be yours. Click Here to get it.  If you already have an earlier version, look for special upgrade pricing.
Yay for multi-platform audio recording software!
Ken