Recently I announced the creation of the Fast Track Home Recording Starter Kit, which was a bundle of essential recording equipment put together in coordination with B&H Photo-Video-Audio.  It is composed of the minimum gear needed at the lowest price to allow anyone to start recording professional audio on their computer.
That first bundle - priced at $247.95 - is good for anyone, but especially suited to those doing mostly voice over recording, including video narration, podcasts, etc.
These bundles are great because they save you lots of time and money.  For instance, the items in the below bundle, if purchased individually, would cost a total of $512.95.  And then there is the shipping.  But buying it as a kit, you save $93.22 for the gear, and B&H offers free shipping.  How cool is that?
So here is that second bundle, which is more geared (no pun intended) toward musicians - The Focusrite Home Recording Musicians Starter Kit.  The primary differences are the addition of an extra microphone for recording acoustic guitar and other instruments, and a MIDI keyboard for playing virtual instruments.  Of course there are two mic cables and stands, and the interface accepts two microphones simultaneously.  Below are the details: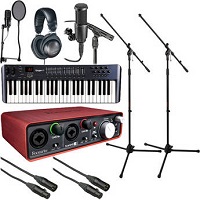 The Home Recording Musician's Starter Bundle ($512.95)
Focusrite Scarlett 2i2 USB Audio Interface
Audio-Technica AT2041SP Cardioid Condenser Studio Microphone Package
2 x Pearstone 3-Pin XLR Male to 3-Pin XLR Female Audio Cable (10')
2 x Auray Tripod-Boom Mic Stand
Audio-Technica ATH-M20 - Closed-Back Headphone
Auray Nylon Round Pop Filter with Gooseneck (6.6")
M-Audio Oxygen 49 -USB MIDI Controller