Improve The Quality Of The Audio You Record At Home – Tip 3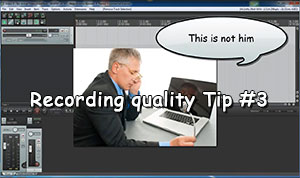 For the past 3 weeks, we've been posting videos and articles that show you how to dramatically improve the quality of the audio you record in your home studio - especially voice recordings.
In week 1, we learned the fastest and cheapest, yet hugely effective tip of simply getting your mouth closer to the mic. Most folks record with the mic 18 inches away from their lips. But getting up close and personal at about 3 inches makes a LOT of difference.
Last week we talked about how important it is - if you are recording in a converted bedroom with no acoustic treatment (this describes a vast majority of us) - to use a cardioid mic, or the cardioid setting on a multi-pattern mic. This week's tip is another, just like the previous ones, that will not require you to build or buy anything.
Record As Loud As Possible Without Distorting
Whether you're recording through an audio interface, a USB microphone, or a PC mic plugged directly into your computer's built-in sound card, you will be able to control the level of the incoming audio.
With PC mics and USB mics that have no volume control knob (some USB mics, such as the Blue Yeti, do have a control on the side), you can use your computer's operating system to control the recording level.
The video above shows you how to do this in Windows. The process is similar with a Mac. Just about all audio interface hardware units have some sort of input level control.
So as you'll see (and hear) in the video, if you record with too low a level (usually you'll see tiny wave forms if this happens), you'll want to "turn it up." But doing that ALSO turns up the ambient noise.
Record too loud though, and you'll distort, which is really nasty-sounding. The trick is to find a sweet spot where you record JUST loud enough that your loudest bit of audio is just barely below the point where distortion would happen.
When you record at this correct level, you won't have much of a need, if any, to turn it up. So you keep the noise to a minimum. Check out the video for examples of all the scenarios.
Here's the part 4 of the series.